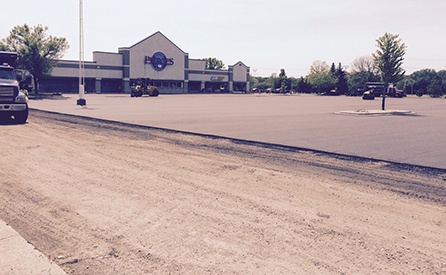 Northside Towncenter is a 17-acre shopping and retail plaza located in Madison, Wisconsin.
With more than 20 retail tenants on site, and the prospect of adding a new high profile business, Willy Street Co-Op, to their list of tenants, the management team knew the parking lot required maintenance and they began to seek out a local company with the size and reputation to help them.
A new parking lot was important to ensure that their current tenants and customers alike could have a great experience at the retail shopping center.
"We certainly did our research on paving companies," said David Bruns, President of Sherman Plaza, Inc., which owns and manages the property. "We wanted a locally-based asphalt paving company with the size, experience and reputation to handle a large-scale commercial asphalt parking lot installation."
Finding the Right Commercial Asphalt Paving Contractor
But finding a reputable contractor was not just about size and experience, it was important to Bruns to find a commercial asphalt paving contractor they could trust from the initial sales and estimate through to the asphalt product used and the installation. With current tenants and open businesses on site, the ability to complete the paving job in a timely manner was essential, without causing great disruption to business as usual.
Karen, from Wolf Paving, worked diligently with the management team at Northside Towncenter to work out the details of the job and complete the job on schedule.
Asphalt Pavement Parking Lot Surprises
"With Wolf Paving, we really found a company we could trust, " said Bruns. "It was great to work with Karen and to find a company with good local references. Even when there were some surprises along the way, we knew we could trust the team at Wolf to execute and complete the project on time. Don Bruns, property co-owner, also supported the Wolf Paving recommended solution."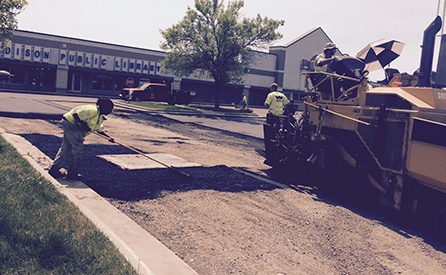 Those surprises, as it turns out, were as a result of shifting soil under the old parking lot structure. The old parking lot was more than 15 years old and had a compromised surface in areas that allowed water to penetrate and reach the sub base. This caused the clay below to soften, reducing stability and compromising the integrity of the structure.
A Unique, New Stabilization Process
As a result, Wolf Paving had to make some adjustments in their foundation installation to account for further stabilization of the sub-base. The unique process included undercutting and the additional of geo-grid.
"In the middle of a project when unforeseen problems arise, we want to assure our customers that we can provide a solution that won't blow the budget," said Karen. "Instead of undercutting and digging 2 - 3 feet below the surface to repair the sub base, our team at Wolf Paving offered a cost savings alternative that boasts excellent results and durability."
Using Geo-Grid to Support the Asphalt Sub-Base
The Wolf Paving solution to traditional undercutting is the use of geo-grid, which means the Wolf team only has to dig 12 – 16 inches below the surface to make repairs. The geo-grid is used as a bridge to provide support to the sub base without the added cost of filling in a large hole with costly aggregate. This saves considerable time and money and provides lasting results to improve the structurally integrity of an asphalt surface.
As a result of this advancement in asphalt parking lot repairs, additional support was added to ensure that the soft clay would no longer compromise the asphalt surface above and that the parking lot would provide years of durability.
"Wolf Paving provided great customer service and fair, honest pricing with great results," said Bruns.
Wolf Paving offers professional paving services from Milwaukee to Madison, and everywhere in between, including all areas around: Sun Prairie, Oconomowoc and Waukesha. It's never too early or too late to request a free paving estimate.
Call Wolf Paving today. For the Milwaukee area, call us at 262-965-2121. For the Madison area, call us at 608-249-7931.