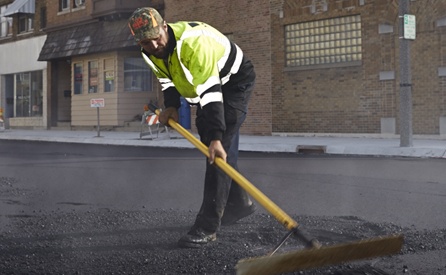 If you are searching for a career opportunity, not just a job, you might want to consider the asphalt industry. In fact, there is more to paving than meets the eye, and you might be surprised at some of the perks for working in the industry. At Wolf Paving, we have been contractors for more than 75 years, building infrastructure in Milwaukee, Waukesha, Oconomowoc, all the way to Sun Prairie and Madison. We know a thing or two about the industry.
A Career in Asphalt Paving Means Job Security
Job security? Absolutely! If there's one thing you can always expect to see in Wisconsin, it's road construction. New roads are always being installed, and existing roadways need regular preventative maintenance.
From pothole repair to crack filling and sealcoating, asphalt contractors are busy working to keep Wisconsin roadways clean, smooth and safe for drivers. Moreover, new business construction means new parking lot installation and regular parking lot maintenance.
In this short video, Gene, a grading foreman at Wolf Paving, talks about his thoughts on a career in the paving industry:


Career Advancement Opportunities in Paving
At Wolf Paving, the management team is dedicated to promoting from within. Many of the employees have been with the company for 10 or even 20 years, working hard and advancing as the company grows.
As part of the Wolf family, you can expect to contribute to the growth and success of the company as a whole. As an asphalt plant manager, Anthony talks about how every position contributes to the success of the team overall.
Asphalt Paving Jobs Offer Many Benefits
The asphalt pavement industry is unique for many reasons. The industry offers:
Local jobs that are long-lasting and well-paying
Continuing education
Opportunities for growth in several types of positions
Improved community infrastructure
Higher standard of living for residents
Environmentally sustainable investments and products
Economic growth and development
You can leave the jobsite each day seeing the progress you've made and your contribution to the growth and development of the local area.
Take a look at another video, describing the pride in workmanship asphalt contractors and employees feel after a day at work.
If you are ready to start your career in the paving industry, please click below to see available positions and to apply now! We are excited to add dedicated, hard working employees to the Wolf Paving Family!