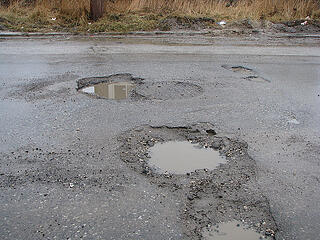 Have you been driving over the same pothole, over an over again? You see it get fixed, but it just keeps coming back? The truth is, there is a right and a wrong way to fill a pothole.
If you see a crew driving down your street throwing cold or hot-mix asphalt into potholes, you can expect to see those potholes again in a few weeks.
With 75 years in residential, commercial and municipal paving, Wolf Paving has the information and resources to help you understand how to properly maintain, repair and install asphalt pavement.
In this informative eBook, we review our expert method for proper pothole repair, including:
Why potholes form
The eight step repair and fill process
Pothole prevention
Download now by following the graphic link below.
With 75 years of asphalt paving experience, from highways to driveways, we are your local source for all of your asphalt paving needs.
Wolf Paving offers professional paving services from Milwaukee to Madison, and everywhere in between, including all areas around: Sun Prairie, Oconomowoc and Waukesha.
It's never too early or too late to request a free paving estimate. Call Wolf Paving today. For the Milwaukee area, call us at 262-965-2121. For the Madison area, call us at 608-249-7931.