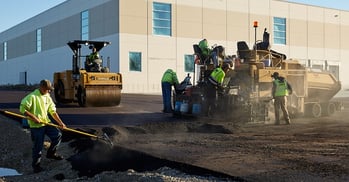 If you are looking to attract new business or hoping to improve your property value you should consider the simple things you can do now to give your property an edge.
With our free, easy-to-follow property owner checklist, you can find simple repairs that will help attract new business and increase your sales profits. Take a look below at just some of the things that can help increase the value of your property and make the right first impression with potential customers -- and don't forget to download your free checklist!
1. Refresh Your Parking Lot to Improve First Impressions
Anyone visiting your property is going to take notice of your parking lot – be it a tenant, customer or potential buyer. Giving your lot a fresh, new look might be just what you need.
We have a full list of things you can do to improve your curb appeal, but these are our top recommendations:
Add a little paint. Re-painting your pavement and parking stripes is a cost-effective way to give your parking lot a fresh look. At the same time, make sure all of your parking lot signs are clean, in good shape and visible.
Sweep it clean. It's amazing how great a parking lot can look after a good cleaning. Consider hiring a company for a street sweeping service to remove all debris and give buyers a good look at the full property potential.
2. Simple Repairs, Huge Difference
Consider these simple asphalt parking lot repairs:
Crackfilling and sealcoating. If your asphalt lot is more than 5 years old, it likely needs a fresh sealcoat application and depending on past traffic, it may require some crackfilling. These minor repairs can help boost the value of your property and improve your curb appeal.
Download the full property owner checklist now to see other pavement recommendations to help expedite your property sale.
3. Consider Minor Exterior Building Repairs
The state of the building is top priority for anyone looking to work or move in to it. Consider these simple repairs to boost the selling points of your building.
Paint exterior surfaces with any flaking or peeling paint
Repair loose shingles
Fix any small holes or exterior wall damage
Trim up landscaping
Consider these additional exterior maintenance tips.
You want to attract the right kind of long term business to your building. With the help of the right local contractor and the right list of exterior repairs to boost your building's value, you can be well on your way to success!
Download your free copy of the Property Owner Exterior Maintenance Checklist
Additional Resources for Property Managers:
At Wolf Paving, we own the materials and plants, which allows us to control the entire process and provide customers with the highest quality custom asphalt mixes to meet every specific paving need.
With more than 75 years of asphalt paving experience, from highways to commercial driveways, we are your local source for all of your asphalt paving needs.
Request an estimate and get on our list for upcoming projects! Call Wolf Paving today. For the Milwaukee area, call us at 262-965-2121. For the Madison area, call us at 608-249-7931.