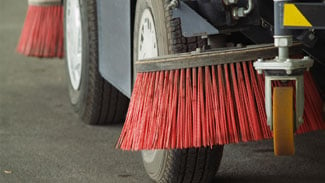 One of the best things about living in Wisconsin is the four distinct seasons. As summer ends and fall begins, we enjoy cool, crisp weather and gorgeous scenery as the leaves begin to change colors and fall. For property managers, business owners, and municipalities, all of that scenic beauty eventually has to be cleaned up in the form of raking and street sweeping.
From Madison to Waukesha, street sweeping ensures that the fall leaves and debris are completely removed in order to protect your paved surfaced and make winter snow removal safe and easy.
If you are looking for a street sweeping service near you, here is how to find the right partner that will help you protect your property and your asphalt investment.
Why You Should Consider Regularly Scheduled Street Sweeping Services
Street sweeping vehicles use jets of water and specialized bristled brushes to remove dirt, debris and garbage from your asphalt pavement. Street sweeping should be done at least once a year, and fall is one of the best times to do it. Making an investment in scheduled street sweeping services will pay off, helping your asphalt pavement surface last longer.
Regular street sweeping will:
Create safer passage for vehicles, pedestrians, and snow removal services.
Improve drainage and prevent standing water on your asphalt surface: water penetration can compromise the surface of your asphalt, causing cracks, potholes, and other damage.
Increase the curb appeal of your property, which can help with selling or renting efforts.
How To Hire The Right Street Sweeping Service Near You
If you are ready to hire a street sweeping service, you should treat it just like searching for any other contractor.
You want a partner with a lot of experience, qualified employees, great customer service and the right equipment.
There are different types and grades of pavement, including porous asphalt surfaces, concrete surfaces, rubber surfaces made with bits of rubber from tires, and asphalt surfaces. Your contractor should have expert knowledge on how to clean each surface type.
The street sweeping company you choose should have a thorough knowledge what type of equipment, from vacuum sweepers to sprayers, are required for each specialized job.
The right street sweeping service will do a lot more than pick up your fall leaves. They will serve as an expert partner who can help you maintain your unique property, and alert you to any small problems that require preventative maintenance before they become big issues.
Help With Removing Stains From Asphalt Pavement
An expert street sweeping service is an essential partner, but there are some stain removal techniques you can try on your own in order to keep your asphalt pavement looking great. Here is our DIY guide to removing common stains from asphalt pavement.

Step One: No matter what caused your stain or how you will remove it, the first step is to thoroughly rinse the stained area with water from a hose to clear away remaining debris. However, less is more in this step: Don't use a pressure washer as this can set the stain into the asphalt more deeply. Stick to a normal hose.


Step Two: Try a common household cleaner like soap, vinegar or dish or laundry detergent. Scrub the stain with a stiff-bristled brush, rinsing and repeating until clean. Coca-Cola can also be used as a cleaning product for pavement. Follow step one, and then pour a few cans of Coke on the stain. Let it sit overnight, and rinse it off the next morning.
Oil Spills and Stains: In parking lots, oil is a common stain that requires a special cleaning method. Fortunately, inexpensive old-fashioned non-clumping cat litter works well as a first step. Clean up any excess oil and then pour the litter over the stain. In order to make sure the cat litter gets into any cracks, stomp it down on the asphalt surface. Let the cat litter sit on the stain overnight. Use a broom the next day to sweep up the litter and then spray the surface with a hose.
With 75 years of asphalt paving and maintenance experience, from highways to driveways, we are your local source for all of your street sweeping needs.
For more information on Wolf Paving or to request a free estimate for your next street sweeping or paving project contact one of our two offices. If you live or work in the Waukesha areas, call us at 262-965-2121. For the Madison area, call us at 608-249-7931.