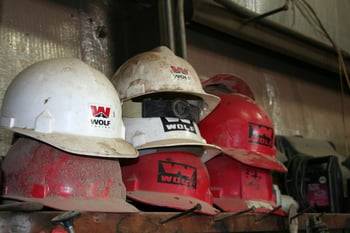 Gaging the level of experience and expertise of an asphalt paving contractor is not easy. Asphalt paving is a complex subject and with so many contractors to choose from, each touting their own list of attributes, it can be difficult to decide who to hire for your next municipality paving project. We often suggest starting your search by looking at each asphalt contractor's level of experience.
At Wolf Paving, we have 75 years of experience in the asphalt paving industry and we have helped many municipalities manage their asphalt paving projects, from parking lots, to roads and even green infrastructure. Take a look some of our case studies to understand why experience matters.
Municipality Paving Experience
Selecting an asphalt paving contractor with experience performing municipality jobs of similar size, with a similar project scope, can make a big difference in the success of your project. Understanding how to manage the process steps, and overseeing a large-scale asphalt project from start to finish is a good sign that an asphalt contractor can handle your next paving project.
Wolf Paving completed the 2.75-mile Coffee Road municipal paving project in New Berlin, Wisconsin. There were four phases of the municipal project, pre-determined by the City of New Berlin. The project included widening and straightening the road, strengthening the base through the use of geo-textile fabric and Glas-Grid reinforcing pavement mesh, and applying the new asphalt pavement along the entire road. The project began in April 2013 and was completed in October 2013.

Experience Completing Large Asphalt Projects
The ability to successful plan, manage and complete an asphalt project demonstrates both knowledge and reliability. Wolf Paving completed a 2-acre parking lot with great success for Milford Hills Hunt Club.
According to Lloyd Marks, owner/operator of Milford Hills Hunt Club, "We chose Wolf Paving because of the quality, the service, the commitment of the family run business, and the time frame of when they could get (the paving) done."
Take a look at the case study, documenting the success of the project.

Understand Municipality Storm Water Management
With growing environmental and storm water management concerns in Wisconsin, it is important that your asphalt contractor understands the importance of using green asphalt paving products when possible.
We have had many projects in the past few months where we have been tasked with adding porous pavement parking spaces, or roadways to existing municipality asphalt surfaces. We are experts at understanding how to use porous asphalt to help improve storm water management and lessen the damaging effects of water run off.
Beyond the experience and understanding know-how to get a project done for your municipality, consider these addition tips in our blog "How To Select An Asphalt Contractor For Your Municipality Project." Covering everything form the right insurance, to the number of bids you should consider, we want to make sure you have the information you need to make the best decision for your project.
With 75 years of asphalt paving experience, from highways to driveways, we are your local source for all of your asphalt paving needs.
For more information on Wolf Paving or to request a free quote for your next paving project contact one of our two offices. If you live or work in the Milwaukee area, call us at 262-965-2121. For the Madison area, call us at 608-249-7931.