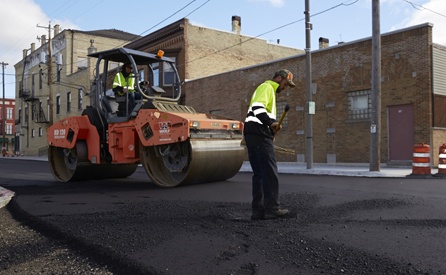 Commercial parking lot paving isn't a job you want to entrust to just anyone. Your parking lot is one of the first points of contact customers have with your business and how it looks and functions can impact your bottom line.
A well maintained, clean and evenly paved lot with quality asphalt tells your customers that you value their entire customer experienace and appreciate their patronage, from door to door.
If you're in need of a parking lot expansion or upgrade and you're wondering what features define a quality commercial parking lot paving job, familiarize yourself with these important technical principles.
Four Key Features of Good Commercial Parking Lot Paving
In simple terms, the features that define a quality paving job can be broken down into four categories:
#1 Smooth integration of existing pavement.
If you want to expand an existing parking lot, or integrate existing pavement into a refurbished, precision saw-cutting is an essential first step. The smooth transition form old pavement to new, is important for the consturction of any high-quality pavement project. Learn more about this process with these helpful case studies:
#2 A good gravel base.
Did you know? The most important part of your new asphalt parking lot is the sub-base. Without a proper gravel foundation, the parking lot will buckle under the weight of vehicle traffic. Installation of sub-base takes experience and percision. Take a look at these additional resources to learn more:
#3 Proper drainage.
Water needs to have somewhere to go. Carefully designed drainage systems prevent buildups of standing water and long-term damage to the parking lot. Learn more:
#4 Attention to detail
While the asphalt is hot and fresh, skilled workers use hand rollers and plate compactors to ensure an even surface and sharp edging. This attentiont o detail means that the final product, a new driveway, parking lot or roadway, looks great and it built to last. Take a look at some of our completed projects in our photo gallery.
At Wolf Paving, we take great pride in building some of the longest-lasting and best-looking asphalt parking lots in the Madison and Milwaukee area. Our professionals use advanced equipment and precision techniques to integrate existing pavement, lay gravel foundations, create proper drainage channels, and add detail to parking lot asphalt.
If you'd like to see examples of some of our finest work and hear from satisfied past customers, visit our gallery or read our testimonials. You can also contact us for a free, no-obligation consultation about your commercial paving project.
With more than 75 years of asphalt paving experience, from highways to commercial driveways, we are your local source for all of your asphalt paving needs.
For more information on Wolf Paving or torequest a free estimate for your next paving project contact one of our two offices. If you live or work in the Milwaukee area, call us at 262-965-2121. For the Madison area, call us at 608-249-7931.