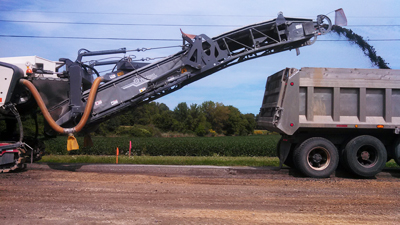 Asphalt paving is, of course, one of the most popular materials for any sort of paving project that's going to see frequent use by vehicles. Both inexpensive and fully recyclable, asphalt paving is a tried-and-true process that's going to be in use for a long time to come!
So in today's blog, we wanted to talk a bit about the processes behind asphalt paving, and clear up a few of the terms we use around this site.
Which Asphalt Paving Processes Are Right For Your Project?
Asphalt Paving Process
The Wolf asphalt paving process is built around sustainability. Asphalt is actually recyclable, almost endlessly so. We strive to recycle 100% of all possible materials around a build site, often recycling them on the spot into new building materials.
We'll also recycle waste oil, old concrete, roofing shingles, and other materials which would otherwise end up in a landfill. Our goal is to minimize the environmental impact of paving in every possible way.
Milling
Milling is the process of taking up existing asphalt for recycling. They can remove asphalt to specified depths, sending the broken asphalt back to the plant to be re-crushed and used to make new asphalt.
Milling is also used when existing asphalt merely needs to be trimmed. If your pavement is causing drainage issues or a particular patch needs to be removed for pavement repair, milling takes care of the problem.
You can learn by reading our blog, The Process Behind Asphalt Milling or download our Milling Services Whitepaper. If you would like to take a closer look at an asphalt paving job that used milling, take a look through our case study Wolf Paving Widens Coffee Road In New Berlin, WI.
Stabilization
Stabilization is a process by which we treat the soil beneath the asphalt, preparing it to bear the weight of the asphalt. While not absolutely necessary, we strongly recommend it for any project where base issues can be a problem as it can extend the life of the asphalt for many years. Proper stabilization will lower the flexibility of the base, preventing cracking, as well as reducing the overall thickness needed.
You can learn more by checking out our blog, How Soil Stabilization Or Rebasing Helps Your Parking Lot Or Driveway.
To get a closer look at a stabilization project, check out our Case Study: Behind The Scenes Of Stabilizing The Asphalt Base At Glen Hills Middle School.
Pulverizing
We use a pulverization process to grind up the existing asphalt and mix with the base underneath that holds up a new paving job. Our machinery can often do it in one pass, breaking up the upper layer of existing asphalt and completely mixing with the gravel underneath. This pulverization process also prevents huge costs in hauling off the old asphalt paving!
You can learn more by reading our blog, Asphalt Pulverizing - An Asphalt Recycling Process.
---
Feel free to request a detailed quote on your next paving project! If you live or work in the Milwaukee area, call us at 262-965-2121. For the Madison area, call us at 608-249-7931. With more than 75 years of asphalt paving experience, from highways to driveways, we are your local source for all of your asphalt and concrete paving needs.
For more information on Wolf Paving visit our Why Wolf? page to see what we can offer you.
Whatever your plans, we're here to help!