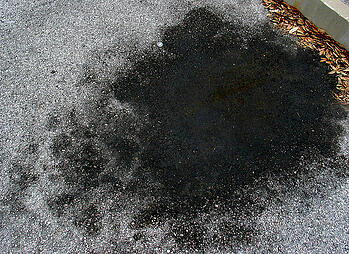 More than the southern states, here in Wisconsin, we know how important it is to get repairs and maintenance done before the winter weather hits. Once the snows start falling, it's virtually impossible to do any outside work, especially once the temperatures head below zero.
That's probably why we get so many calls around this time of year from people wondering how to get stains out of their asphalt driveway.


Asphalt driveway stains seem to accumulate in the summer and autumn.
People spill oil while doing an oil change

Crushed leaves decay and leave stains behind

Dark 'shadows' on asphalt linger behind from piles of leaves or mulch.
Luckily, you don't need an asphalt paving specialist to clean a stained asphalt driveway. It's easy to do yourself, with nothing but common household items.
Tips For Giving Your Asphalt An Autumn Cleaning
No matter what method you're going to use, the first step is to thoroughly rinse the stained area with a garden hose to clear away standing debris. However, don't use a high-pressure sprayer because they can set the stain into the asphalt more deeply, like rubbing too hard on stained clothing.
From there, if you want to do it the old-fashioned way, virtually any common household cleaners scrubbed onto the stain will clean it. Soap, vinegar, even dish or laundry detergent can be used. Be sure to use a stiff-bristled brush for the scrubbing. Repeat until clean, and rinse it off again with water once you're done.
Of course, not all of us like manual labor, so we've also got a couple no-fuss solutions for cleaning up fresh liquid and oil spills.
Cat Litter – Sop up as much liquid or oil as possible, then lay down a layer of cat litter over the rest. You want to make sure the cat litter gets into every crack, so stomp it down a little on the asphalt surface. Let the cat litter sit on the stain overnight and the next day, use a broom to sweep up the litter. Give your asphalt a final spray with the hose and the stain should be gone!


Coca-Cola – The legends are true: Coke really can be used as a cleaning product, and it works better than a lot of detergents. Just pour a few cans of Coke on the fresh stain and then wash it off the next morning.
That's all it takes to keep your asphalt driveway looking great this fall, before winter hits. However, if you have larger maintenance needs, just give us a call and let us know what you need done.
With 75 years of asphalt paving experience, from highways to driveways, we are your local source for all of your asphalt paving needs.
For more information on Wolf Paving or to request a free quote for your next paving project contact one of our two offices. If you live or work in the Milwaukee area, call us at 262-965-2121. For the Madison area, call us at 608-249-7931.