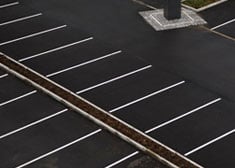 Regular asphalt parking lot maintenance is vitally important to extend the durability, functionality and curb appeal of your parking lot.

So how should you care for your parking lot?

Simple. Take a look at our ultimate list of parking lot maintenance and cleaning tips below. Our asphalt paving professionals at Wolf Paving have more than 75 years of experience. You can trust our knowledge and expertise when it comes to everything asphalt.
Keep Your Parking Lot Clean to Make a Good First Impression
Is your business or property making a good first impression? An unsightly parking lot can drive away customers and tenants from your buildings. Here are just a few reasons why you should consider scheduling professional parking lot cleaning regularly:
A clean parking lot makes a good first impression on customers and tenants.

Regular street sweeping and maintenance extends the life of asphalt, especially porous asphalt.

A clean parking lot discourages littering. 

Clean parking lots minimize pollution to local waterways. 

A clean lot can protect your business from lawsuits. 

Proper cleaning and care prevents erosion. 

A clean exterior prevents rodents and other pests from moving in.

Cleaning Tips for Parking Lots
Extend the life of your parking lot surface with seasonal clearing. Whether your surface is asphalt, concrete or interlocking brick, using material-specific techniques and tools can help you remove tough surface stains.

Cleaning or street sweeping your parking lot surface can make a big difference in the look, surface texture and overall lifespan of your parking lot.

Regular cleaning will:
Remove surface dirt and debris.

Reveal necessary repairs, like growing cracks or potholes. 

Ensure that your asphalt does not get stained or damaged over time.

Clean away harmful vehicle fluids that can deteriorate your asphalt prematurely.

Save you money over time and keep your lot looking like new.

How to Remove Tough Parking Lot Stains
There are specific tools and techniques you should consider based on the type of tough stain you are dealing with.
Consider these helpful tips:
Asphalt Cleaning Tips: Trisodium phosphate (TSP), bleach and baking soda are all very effective to clean away grease on asphalt. Apply compound directly to the stain, then use a broom with firm bristles to scrub it away.
Concrete Cleaning Tips: Cola and dishwashing liquid effectively combat grease spots on concrete. Pour soda on the stain and let it saturate the area. Leave the soda to soak overnight and then scrub with warm water and dishwashing liquid the next day. Create a soapy lather with a nylon brush and the stain will lift away. Simply pour the soda onto the stain, saturating it and leaving it to soak overnight.
Mulch or Leaf Stain Tips: To remove mulch or leaf stains, apply soap or vinegar to the surface and scrub with a brush using circular motions. Rinse the soapy solution away using a low pressure rinse. If the stain still persists, try mixing one capful of bleach with one gallon of warm water. Scrub the bleach solution on the stain using small cicular motions. Allow the solution to sit on the stain for 30-minutes and wash away with warm water or a low pressure rinse. 


Oil Cleaning Tips: Grease and oil spots are a common problem in parking lots, where cars and trucks can be sitting in one spot for a long period of time. If you see motor oil spilled on your surface, blot up as much of the oil as possible. Try using kitty litter as an absorbing agent by letting it sit over the stain overnight. When the excess oil is soaked up, sweep away the kitty litter. If a stain persists, try using TSP or a commercial degreaser. Follow the directions on the bottle and scrub the product into the stain to break down the oil and rinse away with warm water. 


Pressure Washing Tips: Pressure washing is a great cleaning option for DIY maintenance. For general cleaning, use a hose that's capable of producing at least 3000 PSIs. But keep in mind that you should consider your stain type before you use a pressure washer. The use of a pressure washer on oil patches or set-in stains can make the stain worse, driving the stains deeper into the surface pores.
Preventative Maintenance for Asphalt Parking Lots
Investing the time and money to maintain your parking lot can save you money (and time) in the long run. A well-maintained parking lot surface can last upwards of 15 years. In fact, investing in annually cleaning and maintenance makes a big difference in the durability and longevity of your parking lot.
Consider these maintenance tactics:
Sealcoating should be done every two years to maintain the protection of your surface and keep your parking lot looking new. Without a regular sealcoating application, you leave your asphalt surface unprotected from the elements and external factors.

Regular sweeping and cleaning will reveal needed repairs and prevent long term damage.

Good maintenance means filling in cracks and potholes before they can spread. You should always repair surface damage immediately, because without repairs, water is able to penetrate and compromise the sub-base, or support structure, of your parking lot. 

How to Decide Which Parking Lot Repairs Are Right for You
You can see the cracks, potholes and parking lot damage, but how do you know if you need a full reconstruction, a repair or an overlay? Rest assured, we can help you. Asphalt paving experts know how to determine which type of repair will meet your needs and your budget.
Here are some quick tips to help you self-diagnose your parking lot predicament:
Pothole and Crack Filling - If your parking lot is generally in good condition, with only minor cracks, potholes or other cosmetic flaws, spot repair work may be the treatment you need. Potholes and cracks are often caused by the expansion and contraction of water after it has entered the ground below the asphalt surface. This is why it is important to regularly fill in cracks and potholes, to help reduce water penetration and water related damage. 

Asphalt Overlay - Asphalt overlays are often the go-to repair sought by municipalities and large commercial businesses. Why? Because asphalt overlays can extend the life of an existing parking lot surface for 5-10 years. An overlay strips away the top layer of asphalt and replaces it with fresh, new asphalt. While an overlay will give the appearance of a brand new parking lot, it will eventually need a full reconstruction. Your parking lot may be a good candidate for asphalt overlay if your subbase layer is structurally intact, level and capable of bonding to the asphalt overlay. 

Reconstruction or Repaving - If you parking lots has large areas of alligator cracks or is crumbling, you may need to consider a complete repaving. Large areas of cracks or potholes mean the sub base of your asphalt parking lot has been compromised, and no amount of overlay or patching can help the problem. Your contractor can work with you to determine the scope of the project and can outline exactly what needs to be done.


Determine the Best Type of Parking Lot Surface for Your Needs
If you and your asphalt contractor have decided that a reconstruction or asphalt installation is the best choice for your paving project, you might be interested in understanding different paving materials.
Perpetual Pavement uses a multi-layer paving process designed to extend the useful life of a roadway or parking lot. In the installation process, a strong, supportive base prevents cracks in the bottom of the pavement, a strong middle layer, built to be permanent, is laid on top and a driving surface is added that will last for several years but is replaced periodically. With a solid base that can last for long periods of time and periodic asphalt overlays to give the surface a fresh, smooth look, long term costs are reduced significantly.


Porous Asphalt is an environmentally, water friendly asphalt solution because it allows water to penetrate through the pavement and into the groundwater below. Porous asphalt solves may water runoff problems and can be especially beneficial for large parking lots which get flooded with water after rain or snow storms. This advanced pavement helps enhance storm water management. Talk with your local governing body about whether you can get tax credits for this green-pavement solution. 

Quiet Asphalt is a great option for residential community parking lots. By choosing quiet asphalt, which is made with a stone asphalt mix, you can reduce noise pollution by as much as 50 percent! The use of quiet asphalt can save you money, because you won't be required to put up and maintain noise barrier walls or other noise reducing structures. 


Custom Asphalt Mixes can come in a variety of forms, based on your individual needs. If you work with an asphalt paving contractor who maintains their own asphalt plant, your asphalt mix can be tailored to meet your needs. Wolf Paving maintains two asphalt plants and creates custom mixes for municipalities and commercial enterprises, as needed, to ensure the best asphalt is used for every application.
Find an Asphalt Paving Contractor with Parking Lot Expertise
If you search online to find an asphalt paving contractor, you'll likely be overwhelmed with options. But choosing the right paving company for your really comes down to a few key factors: industry experience, asphalt product and customer service. 

At Wolf Paving, you can expect:
A consultation, or two, with you beforehand, planning the project in detail so there won't be any surprises to your timeline or your budget.

Our own asphalt plants will prepare the perfect mix for your needs, no matter your weather or traffic concerns.

We will try to schedule around your business needs, doing our work when it is convenient for you. In fact, some routine maintenance jobs can be finished in less than 24 hours. For larger scale jobs, we'll coordinate to work around your peak business periods.

Continuous communication, as needed, to inform you of any issues or concerns with the project and to make sure we are exceeding your expectations. 

Wolf Paving recycles 100% of the materials removed from your site. Your debris and mess become part of our next batch of asphalt.

Ask Specific Industry Questions During Your Asphalt Paving Consultation
Many paving companies will come out to meet you to discuss your parking lot paving plans and to provide a free paving estimate. Use this opportunity to ask them detailed, industry questions to ensure they know their stuff and will complete your project with expertise.
Be sure to ask your contractors these top questions:
What types of asphalt do you provide?

Do you use custom asphalt mixes and do you produce those mixes yourself?

What types of equipment should I expect to see on the job site?

What type of experience do you have with parking lots?

How do you manage water drainage appropriately?

Are you licensed and insured?

Do you offer a project warranty for workmanship and materials and what is protected under that warranty? 

Could you provide me with recent customer feedback or reviews?

With more than 75 years of asphalt paving experience, from highways to parking lots and driveways, we are your local source for all of your asphalt paving needs.


For more information on Wolf Paving or to request a free paving estimate for your next paving project contact one of our two offices. If you live or work in the Milwaukee area, call us at 262-222-0719. For the Madison area, call us at 608-407-9935.