Beneath the layers of snow, ice, and salt on your asphalt surface what will you find?
Will it look like new, or could you find crumbling, cracks, and potholes? Are you concerned about your asphalt pavement surface and the effect of winter taking a toll on the structural integrity and longevity of your investment?
At Wolf Paving, we have over 75 years of experience working in Wisconsin's harsh climate, and we understand the things you should consider when it comes to protecting your asphalt pavement. So let's dive in!
Understanding the Freeze / Thaw Cycle
As the temperatures fluctuate throughout the season, it can have an impact on your asphalt pavement. As water freezes, it expands, which is not ideal for your driveway, parking lot, or roadway. Expanding water can cause damage to asphalt pavement in the form of expanding cracks and crumbling. Moreover, a compromised asphalt surface can break apart, causing potholes to form. To help combat some of the challenges of Wisconsin winters, our team at Wolf Paving has designed Hot-Mix asphalt, engineered specifically to withstand freezing and thawing cycles.
Damage to Look Out For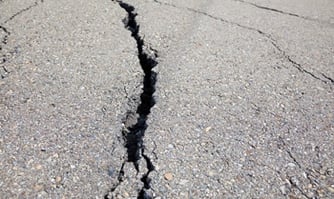 The cold weather itself doesn't cause damage to your asphalt driveway if you've taken preventative maintenance steps to protect it, like regular sealcoat applications and crack filling. Cold weather and freeze / thaw cycles start to cause damage when the asphalt surface has existing surface or sub-base damage. As water expands, it can exacerbate minor problems and when snow melts, it can get under the sub-base and comprise the structural integrity of the pavement. That is why it is so important to ensure that your asphalt surface is installed by a licensed professional with experience creating custom asphalt mixes designed to withstand Wisconsin weather.
The Importance of Proper Sub-Base Installation
You'll often hear that finding the right asphalt paving contractor for your job is important, and it is! But beyond just good customer service, finding the right paving contractor can mean the difference between asphalt that can withstand harsh and changing temperatures, and asphalt that cannot. The integrity of your asphalt pavement is dependent upon good installation, specifically, the proper installation of the right type of sub-base. The sub-base supports the asphalt pavement, and helps prevent shifting, cracking and sinking over time. A well-installed sub-base increases the longevity and durability of any asphalt surface, from highways to driveways.
Salt Only When Required
Snowy weather might mean slippery conditions around your home or place of business. Salt and other deicing agents are safe to use on asphalt, and unlike concrete, salt will not cause any deterioration over time. That is because hot-mix asphalt pavement is an aggregate of stones, sand, and petroleum, mixed in proportions to match the project at hand. It is engineered to withstand the fluctuating temperatures and is not affected by salt or other deicing agents. The reason we suggest only using salt as needed is because it can be harmful to the environment. Salt in water runoff affects plants and animals as well as local waterways.
Blacktop and Porous Asphalt Can Help Manage Freezing Water
One of the benefits of asphalt pavement is its dark color. The dark surface color means that it absorbs heat from the sun and in turn, can melt snow and ice more quickly than other surfaces. But, if your asphalt surface was not installed appropriately to handle water runoff, you may be faced with pooling water and even flooding conditions. Porous asphalt, however, is an environmentally conscious and sustainable paving solution that allows water to drain through the asphalt. Water flows into the stone bed below the asphalt surface and, ultimately, into the soil and water table as nature intended. Porous asphalt is an excellent option for Milwaukee, Waukesha and Sun Prairie residents because it offers a green solution that can help your home or business mitigate water runoff concerns and help the environment at the same time.
Has the snowy weather affected your asphalt surface? Contact us now online and get on our spring project list early.
With over 75 years of asphalt paving experience, from highways to driveways, we are your local source for all of your asphalt paving needs. We offer professional paving services from Milwaukee to Madison, and everywhere in between, including all areas around: Sun Prairie, Oconomowoc, and Waukesha.
It's never too early or too late to request a quote. Call Wolf Paving today. For the Milwaukee area, call us at 262-965-2121. For the Madison area, call us at 608-249-7931.