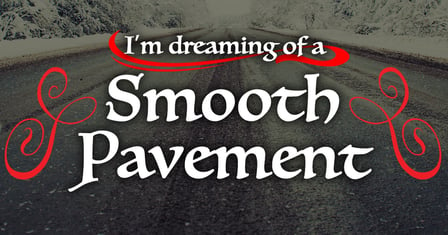 Tis the season to spread joy! And what better way than with song? In keeping with tradition, we've put an asphalt twist on a holiday classic!
We call this little number "Smooth Pavement", a tribute to the Bing Crosby classic "White Christmas".
Smooth Pavement
I'm dreaming of a smooth pavement,
Just like the ones from down the street.
With the simple 7-step process and installation,
I know it will be ready in a heartbeat.



I'm dreaming of a smooth pavement,
With every free estimate I get.
I know I'm getting closer to a road,
Made from the finest recycled aggregate.
I'm dreaming of a smooth pavement,
One that will save my business money.
Or maybe I'll do some driveway maintenance,
As a Christmas gift to my Honey.
I'm dreaming of a smooth pavement,
Installed by a company with a rich history.
And I know a great team of paving contractors,
Who are willing to build that pavement for me!
Looking for more ways to spread holiday cheer? Check out our Winter Coloring book! It's the perfect thing to put out at the kids table or to help keep little hands busy while you prepare for this busy time of year!
With more than 75 years of asphalt paving experience, from highways to driveways, we are your local source for all of your asphalt paving needs.
For more information on Wolf Paving or to request a free estimate for your next paving project contact one of our two offices. If you live or work in the Milwaukee area, call us at 262-965-2121. For the Madison area, call us at 608-249-7931.