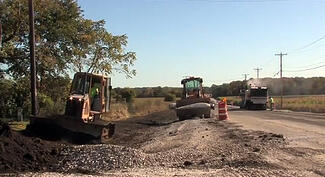 Wolf Paving completed the 2.75-mile Coffee Road municipal paving project in New Berlin, Wisconsin. There were four phases of the municipal project, pre-determined by the City of New Berlin. The project included widening and straightening the road, strengthening the base through the use of geo-textile fabric and Glas-Grid reinforcing pavement mesh, and applying the new asphalt pavement along the entire road. The project began in April 2013 and was completed in October 2013.
Watch the progress of the Coffee Road redevelopment project each step of the way:
Part 4: Creating New Ditches and Adding the Culverts
Part 5: Installing Glas-Grid and Paving the Final Layers to Finish the Road
Read the transcript below:
Coffee Road, in New Berlin, WI was widened an extra ten feet, which moved the ditches out up to ten feet further than what they used to be.
To widen the ditches, they were first excavated to approximately the new elevations, and then shaped with a bulldozer. As the new ditches were created, new culverts were put in, as called for in the blueprints and specifications. This new ditching was done along the entire project and on both sides of the road.
Once excavation and shaping is done, topsoil is added, along with salt resistant grass seed and erosion matting. The erosion matting is like a burlap fabric that allows grass seed to germinate and grow through it. It gets unrolled and put in place. It keeps the ground from eroding until the grass grows. The matting rots away after time. Erosion matting is a biodegradable product.