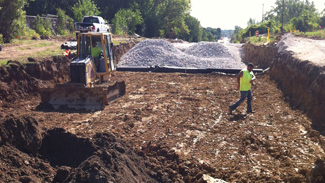 Wolf Paving completed the 2.75-mile Coffee Road municipal paving project in New Berlin, Wisconsin. There were four phases of the municipal project, pre-determined by the City of New Berlin. The project included widening and straightening the road, strengthening the base through the use of geo-textile fabric and Glas-Grid reinforcing pavement mesh, and applying the new asphalt pavement along the entire road. The project began in April 2013 and was completed in October 2013.
Watch the progress of the Coffee Road redevelopment project each step of the way:
Part 2: Excavating Coffee Road and Installing Geo-Grid Reinforcement
Part 5: Installing Glas-Grid and Paving the Final Layers to Finish the Road
Read the transcript below:
The Coffee Road project was split into four phases pre-determined by the City of New Berlin due to traffic concerns. In two of the three reconstruct areas, the existing road was taken down anywhere from three to six feet. The finished height of the road is three to six feet lower than it used to be. Lowering the height of the finished road means the entire stone base has to be removed in order to excavate the soils deeper underneath and new base installed once lowered to the new height. In the reconstruct areas and where the road was widened, the minimum excavation depth was three feet from the planned surface asphalt height.
When the correct depth was reached, a layer of non-woven geo-textile fabric was laid as the bottom layer, which keeps the dirt that's underneath separate from the stone above. After that a geo-grid re-enforcing fabric is installed over the top of the geo-textile fabric. Geo-Grid is a reinforcement layer to add strength. It looks somewhat like a smaller chain link fence made out of plastic. Once these two layers are added, equipment cannot drive directly on the layers without destroying it. Over the top of the fabric layers, two feet of three inch clear limestone was laid by pushing it over the top of the fabric with machinery. The stone interlocks when it's graded and reinforces what is below quite well.
After that, (twelve inches of 1 ¼" limestone traffic bond is added on top. Traffic Bond hardens with grading, compacting, and water. It is a common stone for parking lots, roadways, or driveways.
On top of the traffic bond is asphalt a "binder" or first layer of Superpave Spec nine and a half millimeter mix. The finished asphalt paved surface is thirty-four feet wide. With this particular paving machine, the road can be paved in two passes. The rollers compact the asphalt pavement, and a nuclear density gauge is used to periodically test the asphalt density to ensure low porosity and maximum hardness and durability.