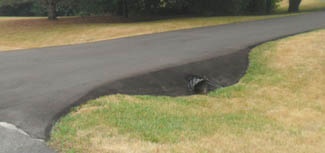 As we've highlighted previously, the asphalt paving contractor experts at Wolf Paving were recently featured on WTMJ's "Mr. Fit-It" radio show for a one-hour interview with Milwaukee's own Tom Feiza. The program offers weekly advice on everything from home repair and improvements to do-it-yourself projects.
The focus of this recent program was on everything asphalt pavement related — from asphalt sealcoating to asphalt pothole repair and maintenance, from commercial asphalt parking lots to municipal asphalt pavement installation. As Madison, Waukesha and Milwaukee asphalt paving contractors, Wolf Paving was in-studio to answer questions from listeners.
This clip features the second segment of the radio show discussing:
Q+A with listener: Puddle at the end of a driveway near culvert
Understanding the asphalt re-heating process
Stay tuned to our blog because we will be publishing the additional segments in the coming months featuring call-in questions from listeners and expert answers from Wolf Paving asphalt paving professionals in Milwaukee, Waukesha and Madison.
Past Interview Segments:
If you'd like more information about how our team of pothole repair contractors can help your business or municipality with timely repair services, request a free estimate now so we can understand the size and scope of your project needs.
With 75 years of asphalt paving experience, from highways to driveways, we are your local source for all of your pothole repair and asphalt paving needs.
Interested in more more Wolf interviews with Mr. Fit-It?
For more information on Wolf Paving or to request a free quote for your next paving project contact one of our two offices. If you live or work in the Milwaukee area, call us at 262-965-2121. For the Madison area, call us at 608-249-7931.