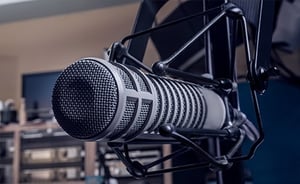 Our team at Wolf Paving was invited back in the Mr. Fix-It studios to answer listeners' questions related to asphalt and concrete repair, repaving and driveway construction. This program gives weekly advice on home improvements, repairs and do-it-yourself projects.
Sean Wolf, Vice President of Wolf Paving, and Todd Morris, Sales Manager at Wolf Paving, answered questions about replacing and repairing garage floors. You can listen to or read the interview below.
1. "My Garage Floor Looks Bad, How Do I Resurface or Replace it?"
Actually, there is very little in terms of what a concrete or asphalt contractor can do to help the aesthetics of your concrete garage floor. But a painting contractor can help. They will put a polyacrylic material down, fill the cracks, diamond grind the concrete to make it the consistency of sandpaper, then they will put a finish on it.
A contractor can fill in cracks, divots and problems. But it's a specialty product you'll need specialty contractor. A specialty contractor can often provide concrete painting solutions and will likely also be able to patch and pill cracks, divots and minor surface problems.
We actually had that process done in our shop recently. Our shop was build in the 1950's and it has the original concrete floor. They came in and ground the whole floor, they applied some type of epoxy, then they put some flakes in it to add a little color and it really brightened up our shop. It's held up pretty well, and we have some big equipment in there.
2. "Can anything other than sand be used for a garage base?"
There are several aggregate mixtures that can be used as a base. With any paved surface, a strong and solid sub-base will help ensure that your pavement will last. When it comes to sub-base materials, sand should be fine if it's level and compacted. In fact, sand should give you good drainage underneath, as long as it's compacted.
When the sub-base is filled in to reach the required elevation level, compaction gets the soils into thin layers. These thin layers produce a flat, highly dense soil that will remain stable under your asphalt.
Interested in more more Wolf interviews with Mr. Fix-It?
With more than 75 years of asphalt paving experience, from highways to driveways, we are your local source for all of your asphalt and concrete paving needs. It's never too early or too late to request a free paving estimate. For the Milwaukee area, call us at 262-965-2121. For the Madison area, call us at 608-249-7931.
For more information on Wolf Paving visit our Why Wolf? page to see what we can offer you.