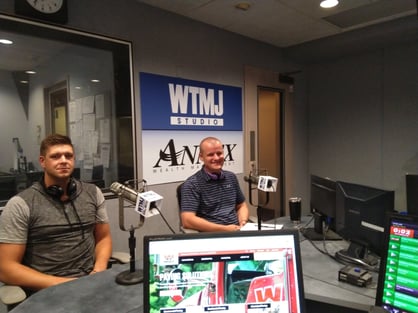 Jacob Mrugacz, President of Wolf Paving, and Matt Horness, an Estimator and Salesman at Wolf Paving, spent another Saturday with Tom Feiza on The Fix-It Show on WTMJ.
During The Fix-It Show, Wisconsin locals call in for home improvement tips and advice. Our guys gave a lot of information on driveways and parking lot care. You can listen to the segment or read some interview highlights below!
Question 1.

(3:04) In the studio: "What's interesting with commercial projects is that what's underneath the road is more complicated than what's above the road considering all the utilities today, right?"

Answer: Correct. The asphalt and concrete roadways are just a small fraction of what we're dealing with. You can run into sewers, fiber optics and a number of other things that can create bigger issues if you're not careful.
Question 2.

(7:28) In the studio: "Let's talk residential driveways and asphalt paving. I'm assuming to do it right, you need a good base and good drainage? Are there other things? What should people look for?"

Answer: Without a doubt, I would say those two, and also the thickness of the asphalt and the type of asphalt. You hit the nail on the head, you need to get the base and the drainage right. It doesn't matter how good the asphalt is if that base isn't put in correctly and at the right thicknesses and depths. Otherwise, you're going to see cracking coming from underneath.

And cracking is the worst thing for asphalt because you start to get water underneath, then that small problem becomes a big one.
"Sure, of course. And what should the base be on a typical residential driveway?"
Answer: I would start off anywhere between 8 and 10 inches, which is typically what we would recommend here in Wisconsin. It all comes down to your soil quality as well. If it's a little bit sandier or marshier, that's going to be a major factor.
We like to do an evaluation when we are bidding to narrow that down, but 8 inches is typically where you'd like to start.
"And is that base typically a large rock size to start with, then move to smaller rocks?"
Answer: It really depends on the load size you're going to put on it. But yeah, we'll use a combination of 3 inch and base stone. We recycle a lot of concrete to use as those base stones, so we're keeping that out of the landfills and putting it back into the projects. And that does work very well, especially underneath that pavement. A lot of it is based on circumstances, and what you're going to do with the driveway.
Question 3.

(10:40) Call from West Allis, WI: "I have a 25-year-old concrete driveway that's starting to crack, but not breaking up yet. Rather than taring it up, what can I use to cover it up that's also going to last in our freezing temperatures?"

Answer: If you're talking about a residential driveway I wouldn't always recommend covering it up. You could potentially run into some drainage issues, especially if it's really close to your house with all that water coming off.

If you have severe cracking now and you put anything on top of that, in a relatively short period of time you will see that cracking come through. For long-term quality, it would be best to take it out and put something new on top.
"What's a good lifespan for a concrete driveway?"
I'd say the average is 15 to 20 years, but it really depends on stuff like the equipment and cars that are regularly driven or parked on there. There are a lot of factors to consider.
Question 4.

(12:48) In the studio: "Sometimes you see parking lots 2 years old, and they already have a big dip and a valley. Is that because of something underneath?"

Answer: Either that or poor drainage. If you get water sitting there, especially in the middle of winter and it starts freezing and thawing and you get a little crack in there or something. That's a combination of problems in the base and poor drainage.

Something unique about our company, some of our most experienced employees are not on the paving side, but rather the grading and prep side. Those guys, they've been doing it 30 years in some cases and they know how to go out and read that, and come out with a whole drainage plan. And we check that before and after paving, it's very important to get that right.

We use all sorts of technology to make sure it's the best it can be, then at the end of the project, we come and spray a bunch of water on it to be sure it drains right. It's a simple technique, but it works! We check that it's not puddling anywhere, and it's always good to test.
Question 5. (15:47) Call from Milwaukee, WI: "I have a question about putting in a sidewalk along a house. Do I need to put any felt material from the house to the sidewalk the whole length of the house?"
Answer: Are you going to be having any green space, shrubbery, dirt, mulch or anything in-between? Or are you going to put it right up against the house?
"Right up against the house."
Answer: I always recommend with any new concrete, put in an expansion joint with that felt material in-between new and existing concrete, it just helps absorb the movement of the concrete throughout winter and that will help with the thaw and unthaw cycles.
Question 6.

(17:10) Call from West Bend, WI: "What grade of asphalt is best for residential parking and driveways?"

Answer: This is a great question. At each of our locations, we make over ten different asphalt mixes and those ten different mixes also have several variations. Our asphalts are tested for all these different qualities such as oil content. We make mixes from what you would use on I-94 for heavy traffic interstate project, to commercial grades where you're just going to have a little pad that's almost never going to see any traffic.

We actually have on our website some paving literature to encourage people to ask their contractors what type of mix they are using, and how much tonnage they are putting into the job.

This helps when you are getting a quote from two different contractors, this will show you some difference in the numbers in terms of thickness and density. It's amazing how much technology goes into asphalt mixing in terms of testing beforehand and afterwords.

At Wolf Paving, we have our own testing equipment. In certain projects, especially municipal ones, they are also tested independently by those municipalities. We test it coming out of the plant, and on the job using what's called a Nuclear Density Gauge. Which is basically a neat contraption which helps you figure out if you're getting the appropriate density. This is important because if you don't compact it properly and it's not the right density, it won't hold up for a long period of time.
Question 7.

(19:05) In the studio: "Do you make the mix that is actually a permeable surface?"

Answer: Porous is what we would call it. We do make it, I always tell people it's a really neat technology as water can literally drain through it. It really does have to be in the right application, you have to consider what's underneath it, what's around it, as well as how much traffic is going to be on it. Porous mix is not always designed to handle lots of semis backing up on it. It's like everything else, you want to make sure it's the right tool for the application.
Question 8.

(19:39) Call from Sussex, WI: "What is the best value if you're going to put a driveway in, asphalt or concrete?"

Answer: It actually all comes down to the size of your driveway itself. If you're looking for overall dollar value there are a couple of things that play a factor, it will depend on the use and construction of the material, and how you maintain it over the years. It's an answer that is open-ended, I apologize.

We do offer quotes for both asphalt and concrete, so we could come out and tell you which is better for your particular job.
"How do we get an estimate from you guys?"
Answer: We have a free estimate set up through our website or you could call one of our offices. For the Oconomowoc office, call us at 262-965-2121. For the Sun Prairie office, call us at 608-249-7931.
We have a team of estimators, like Matt, that will come out to meet you, and look at your project, give you an estimate, and walk you through what that estimate means.
Question 9.

(22:44) Call from Burlington, WI: "I was looking at getting a parking lot done, and was wondering how solid blacktop is. Is it going to leave tire marks on it?"

Answer: That's a great question. Once the asphalt has been put in, you're going to want to stay off it for a few days. You do have the risk of tire marks, especially in the heat, so definitely stay off it for at least three days. Typically you get tire marks from semis and larger trucks peeling into a parking lot. They can also be left from a car sitting in a new lot for a long period of time, especially with this heat.

After the first year, you really shouldn't see that. Tire marks are something we can fix fairly easily since it's not a structural problem.

One of the things we offer our customers is a pavement care guide as part of our closeout procedure which shows them how to prevent some of that and fix it.
"How often do you sealcoat?"
Answer: I'd say every 3-5 years. You don't want to over seal it. You see, some people like to seal it every other year to keep it a nice shiny black.
I'll use wood as an example: if you paint the wood year after year after year the paint kinda drys out and you get cracking. Something similar happens with sealcoat, and too much will leave your asphalt looking like it's cracking. And there is actually no way to repair that, other than removing the top layer of asphalt.
Question 10.

(28:51) Call from Milwaukee, WI: "I have a 5-year-old cement driveway and there is some pitting from the salt on the street. How do I go about fixing that? Will sealing help?"

Answer: Sealing itself won't actually correct the issue. The only true way to repair the pitting is to remove the area, which I know is not the best answer. Pitting is caused from a chemical reaction from the salt and calcium chloride.
Interested in more Wolf interviews with Mr. Fix-It?
With more than 75 years of asphalt paving experience, from highways to driveways, we are your local source for all of your asphalt and concrete paving needs. It's never too early or too late to request a free paving estimate. For the Milwaukee area, call us at 262-965-2121. For the Madison area, call us at 608-249-7931.
For more information on Wolf Paving visit our Why Wolf? page to see what we can offer you.